Are you showing customers the right content?
Posted by:

Nick Spalding
Post Date:
07/12/2020
---
Nick Spalding
So what is the right content?
You'd be amazed how many companies do not get this right, but what exactly do we mean?
OK, put simply, buyers, especially online buyers, generally fall in to one of three categories, when we consider buyer's journey and stages they are at.
The three stages of the buyer's journey are commonly considered to be;
Awareness – a prospect/buyer has identified they have a problem or opportunity that requires a solution
Consideration – prospect/buyer has clearly defined and given a name to their problem or opportunity
Decision – prospect has now decided on their solution strategy, method or approach
So with this in mind, particularly online, it is crucial for companies to ensure they have the right information available for prospects/buyers at the right time.
Companies often mis-align activities and content. They will publish decision stage content (as an example, case studies) on an awareness stage platform like social media.

This may attract prospects/buyers who have heard of the brand and know the product or solutions on offer.

It is unlikely to attract prospects/buyers at the beginning of their buyer's journey i.e. awareness or consideration stages.  
And when we consider B2B or B2C websites, too often we see from manufacturers, products presented in decision stages, as though they imagine the buyer knows the name/product type or solution they are looking for, when in fact it is likely they do not and are in earlier stages of the buyer journey.
In most cases buyers need to be led to the products/services or solutions with education content first to help them identify their solution.
See our digital funnel graphic for a clearer explanation of this.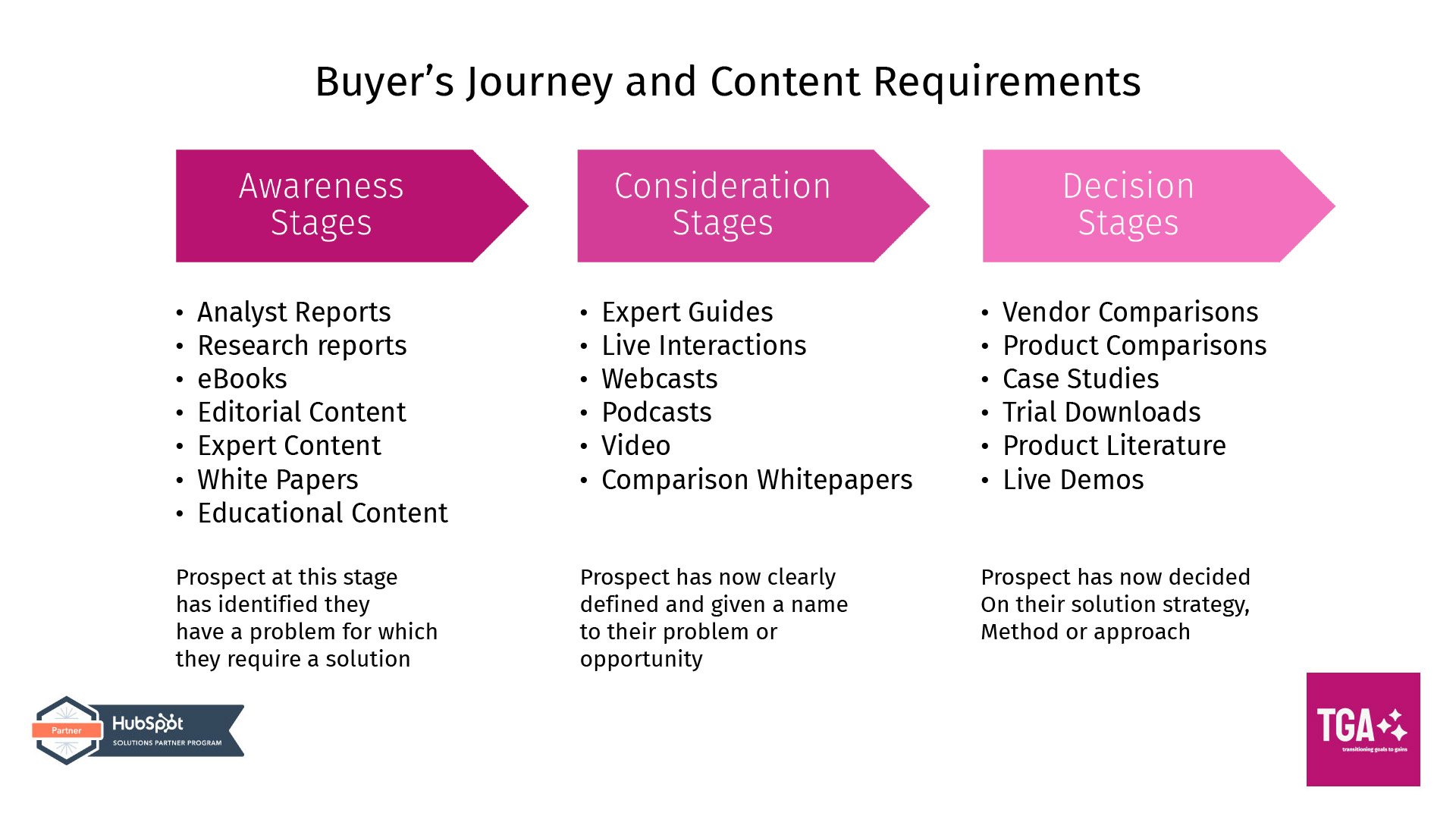 Awareness
When prospects are in awareness stages they are in the very early stages of their journey and are looking to research and find a solution for problems or opportunities they have identified. They will seek out information to guide themselves towards a solution(s), namely;
Analyst Reports
Research reports
eBooks
Editorial Content
White Papers
Educational materials
It therefore becomes essential that brands/companies are publishing and attaching awareness stage content to activities to attract attention i.e.
SEO – search engine optimisation
Blogs – publishing regular blogs
Web – ensure website pages contain awareness stage content and are easily found
Social – publishing regular links to awareness stage content
PPC Adds – use ppc to drive prospects in awareness stages
Consideration
When a prospect is in consideration stages of a buyer's journey they will have educated themselves to solutions to their problems and are actively seeking to identify solutions. They will seek out;
Expert Guides
Live Interactions including live chat
Webcasts
Podcasts
Videos
Comparison White Papers
In addition to activities listed to attract attention brands/companies must add the following activities;
CTA's – Calls to Action leading prospects to the right content on their website, easily
Landing Pages – perfectly crafted to capture details in exchange for information
Forms – beautifully designed to encourage engagement
Decision
Prospects in the decision stages of their buyer's journey are ready to convert but they may still be seeking further information to convince them to buy. Often, before pushing the button, they seek;
Vendor Comparisons
Product Comparisons
Case Studies
Trial Downloads
Product Literature
Live Demos
It therefore becomes imperative for brands/companies to create circumstances for prospects to convert. These should include;
Email -both sales outreach and marketing emails
Automations – so returning prospects are identified and communicated with automatically
CRM – a customer relationship management tool to record interactions
Contacts – segmented and profiled so contacts receive the right information at the right time
Lead Scores – to recognise really hot leads, instantly
Nurturing leads in this way, i.e. the right information at the right time, is proven to provide 50%+ increases in closed sales.
Digital Funnel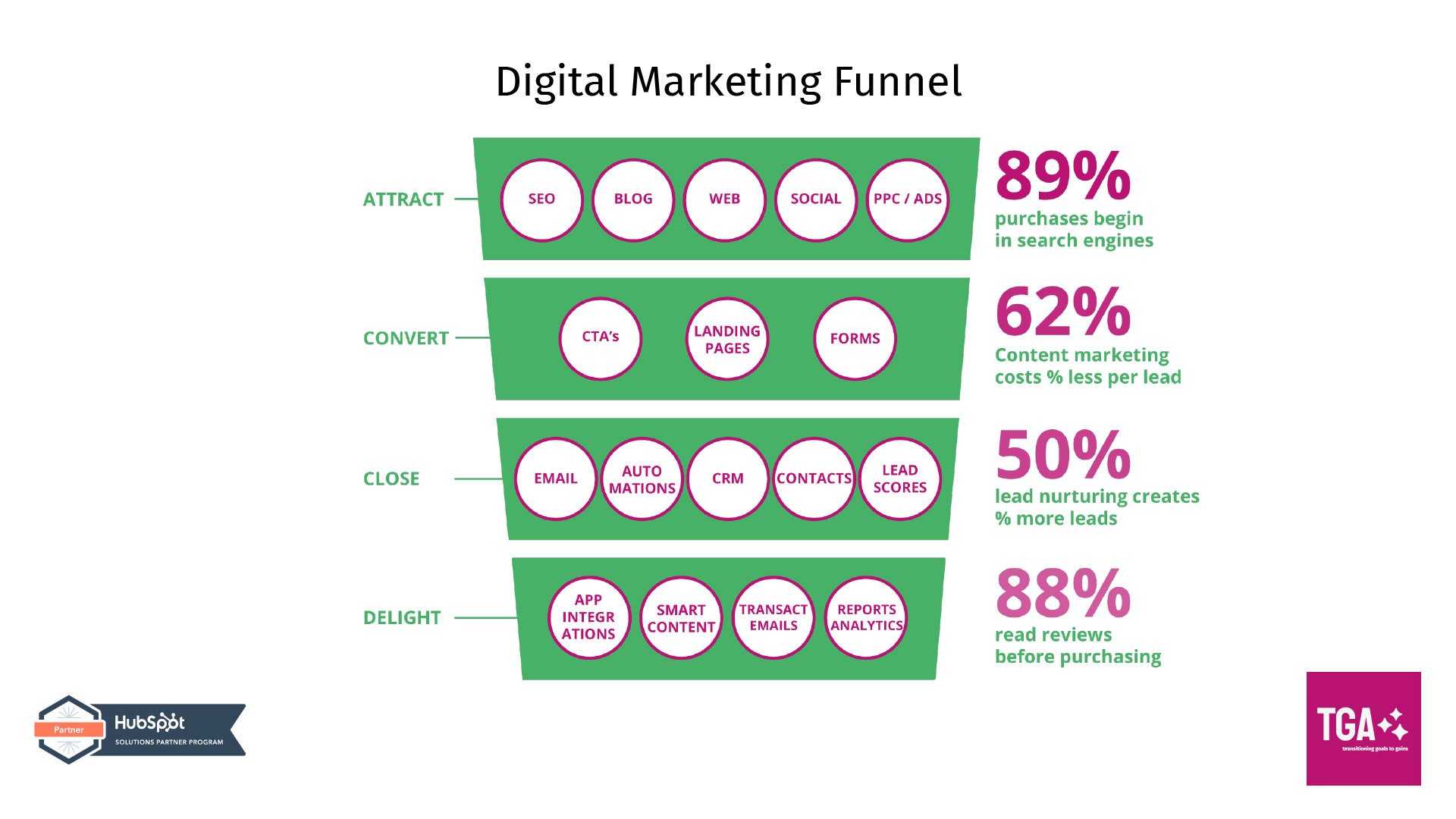 It is commonly accepted and it our experience that digital marketing activities fall into four stages of a digital marketing funnel, namely;
Attract
Convert
Close
Delight
For marketing activities and content to be fully optimised and provide the maximum return on investment a brand/company's content must be aligned to buyer stages and  must also be contextual i.e. appear at the right time.
If you'd like to discuss how we can help you to align your company's content with buyer journey stages and deliver it in the right place, and at the right time, get in touch.