LinkedIn is the best social media platform for business, right? WRONG!
Posted by:

Nick Spalding
Post Date:
01/04/2020
---
Nick Spalding
OK, we realise that's pretty controversial off the bat right there, but to clarify, unless you completely understand your business goals and what your business is looking to achieve from social media, it could be that LinkedIn is the best platform for your business, but it might not be.
It is likely that Twitter, WhatsApp, Facebook, Instagram, Snapchat, TikTok or Pinterest will work really well for you too but right here is where you need to begin.
You need to start by identifying your business goals and why you want to be 'on social media'?
What do we mean exactly?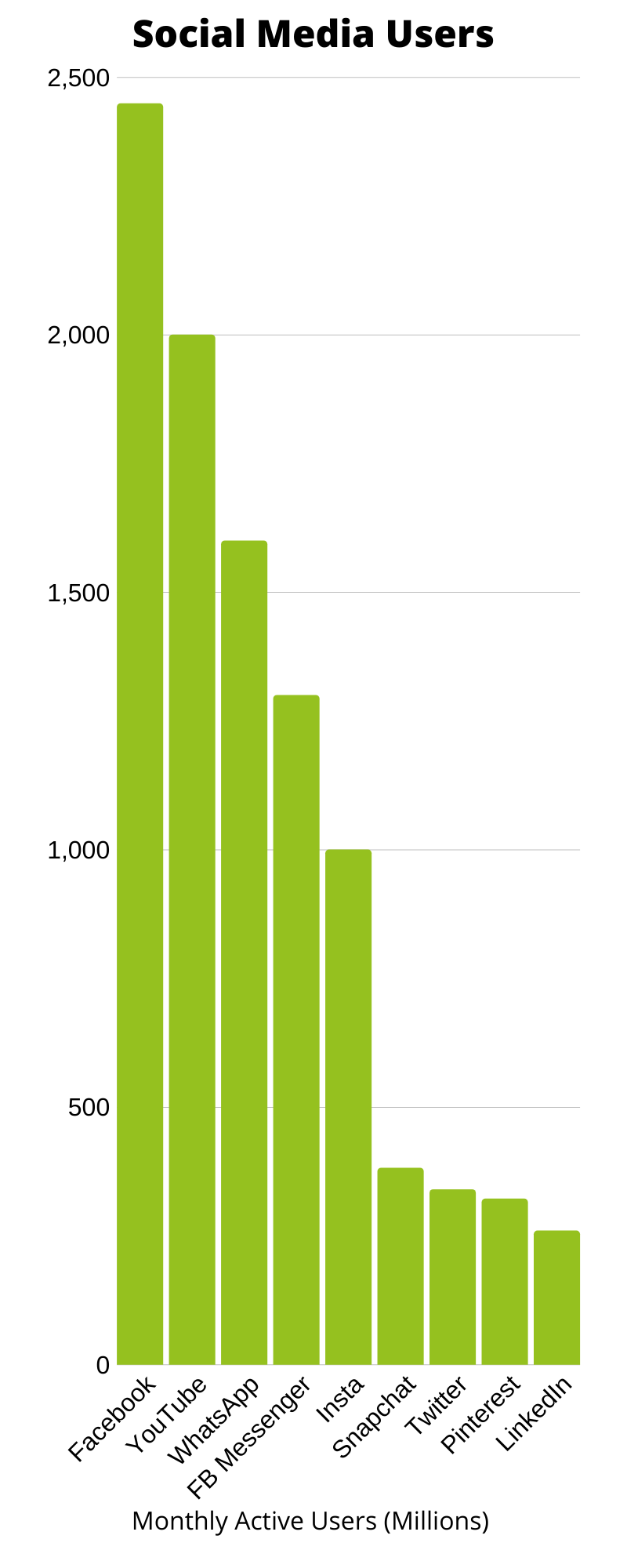 You need to have identified your business goals so that you can decide on which social media strategies you are are going to employ, and these typically fall in to three categories;
Social Publishing
Social Selling
Social Monitoring
It also really depends on what stage your leads, prospects or customers are at in their buyer's journey i.e.
Attract
Engage
Convert
Delight
As an example, if your company's business goal is to engage and nurture existing customers better, Twitter, FB Messenger, WhatsApp and other Live Chat platforms are where your company should be.
WhatsApp currently has 1.6 billion registered users, so the chances are that your customers are already on WhatsApp.
Live chat platforms, embedded on your website, allow instant connections and instant responses for customers, whilst customer service and sales teams are in the office. Artificial Intelligence / Chatbots take over, when they are not.
The takeaway point here is that customers can engage when they choose.
This allows your business to continue to capture enquiries even when your staff are safely tucked up at home in bed.
What if your business is trying to attract new audiences?
Yes, if your company goal is to attract new customers, PPC (pay-per-click) advertising campaigns will produce amazing results if your business goal is to attract potential customers at the early stages of their buying process.
It is well documented B2B customers spend longer online researching a purchase before making buying decisions, but of course they need to find you first.
For PPC campaigns to work most effectively they need to be strategically targeted, often mirroring existing audiences for this to work most effectively. Insta / Facebook / LinkedIn are where your PPC campaigns should be targeted (if you know that is where your audiences and mirrored audiences are).
What if you're trying to educate and build communities of customers?
We'd start by saying, who is your ideal customer, who are you looking to reach and have you identified buyer personas that make up ideal customers for your business? Secondly, is it your business' goal to add more of the same?
So if your business goal is to nurture and educate new or existing customers, LinkedIn and Facebook are both great platforms for growing your brand's awareness with buyers who are in the consideration stages of their journey.
LinkedIn is an excellent platform for social prospecting, as it allows targeted ads to targeted audiences but also allows you to search, research and connect directly with potential prospects.
But be careful here, social prospecting without finesse can be seen as rude if you approach it in the wrong way.
Are you looking to convert e-com customers?
Social selling via Insta and Facebook are excellent tactics for converting e-com customers directly from within the apps.
Both platforms allow you to link product pages from your e-com store directly to Insta ads, posts and Facebook Shops or Facebook Messenger, so customers can order and pay without ever leaving the native app.
If your buyer is a big mobile device user, (and you will know this if you have defined your buyer personas well), who browses whilst commuting, then Insta, Facebook Shop or Facebook Messenger are the platforms your business should be advertising your products or services.
These are all excellent platforms for customers at the decision/convert stage of the buyer's journey.
And that's really the key here, when you think about your business and its activities on social media, who  are you trying to attract (think buyer persona) and what stage are they at (think attract, educate convert or delight) in the buyer's journey?
What are your customers / competitors saying?
If you are looking to improve your business intelligence or you want to find out what your customers think of you, social listening via social media platforms like Twitter is a valuable business tool.
Strategic keyword, hashtag or account monitoring can provide you with business intelligence you might not otherwise get.
Equally, what are your customers saying about you, do opportunities exist to turn fans into advocates for your business (think delight stage of the buyers journey).
In these scenarios you might consider running NPS surveys or polls if your business goal is to generate more word of mouth sales leads. So adopting strong social monitoring strategies for buyers in the delight stage of their journey can prove invaluable too.
BTW – Here's a great article on the Quality of Word of Mouth Referrals by Corey Wainwright – worth 5 minutes of your time.
Twitter and Facebook polls let you know in real time what your customers (or competitors) are saying about your business and allow you to respond accordingly.
Likes vs Shares vs Clicks – Read Vanity over Sanity
Recently both Insta and Facebook changed interfaces so posts/ads do not automatically show how many likes they receive.
It is commonly accepted that Likes / Reach are vanity metrics, whilst Clicks and Shares are considered sanity.
If your social media strategy success is measured upon the number of likes you receive, you might just be missing the point.
Is your social media strategy aligned to your business goals?
Social media strategies must be aligned to business goals.
Choosing the right platform to meet your business goals is also critically important.
And if you don't know what your business goals are, it is probably best not to put yourself or your company 'out there' until you are clear on what you are hoping to achieve.
Once you understand your business goals choosing the right social media platform becomes easier.
Scott, an established food photographer working for some of the largest food brands only ever advertises his business on Insta. He also has a website but he's identified Insta is where his audience is and he has 8,000+ followers. Most of his large corporate shoots are booked as a result of publishing images daily to his Insta grid and clients contacting him directly via Insta.
Another, slightly saucier photography friend, with 71,000+ followers on Insta and 746,000 likes, yes that is nearly ¾ of a million likes, on her Facebook page, promotes her business almost exclusively on Insta, Facebook and Patreon. October understands these platforms allow her maximum engagement with her online community.
Of course we can identify blue-chip brands where this is also the case but these examples for us really highlight the importance of understanding where your audience is.
Is Social Media important?
Social media can be completely significant for a business but choosing the right platform wholly depends upon your business goals and strategies.
However, social media is just one of more than eighty or more online digital strategies that should be employed to drive new leads, customers and existing clients to your business and it should not be used entirely in isolation.
Our experience suggests social media strategies work best when they are aligned with  business goals  and connected to a blog or content offer (ebook, whitepaper, video, webinar, training), hosted on bespoke landing pages with forms (and other CTA's) to capture visitor data, which allows for accurate, detailed reporting on conversions and return on investment.
Social media strategies must be aligned with all digital strategies your business employs so they are co-joined and working together to meet business goals.
Why did we write this article?
We are often asked by business owners, marketers, colleagues, friends and family which is the best social media platform for business. Hopefully this article highlights that it totally depends on your business model, your goals, your strategies and where your customers and potential customers are. One size definitely does not fit all.
Get in Touch:
If you'd like to discuss your social media, website or marketing strategies, get in touch.